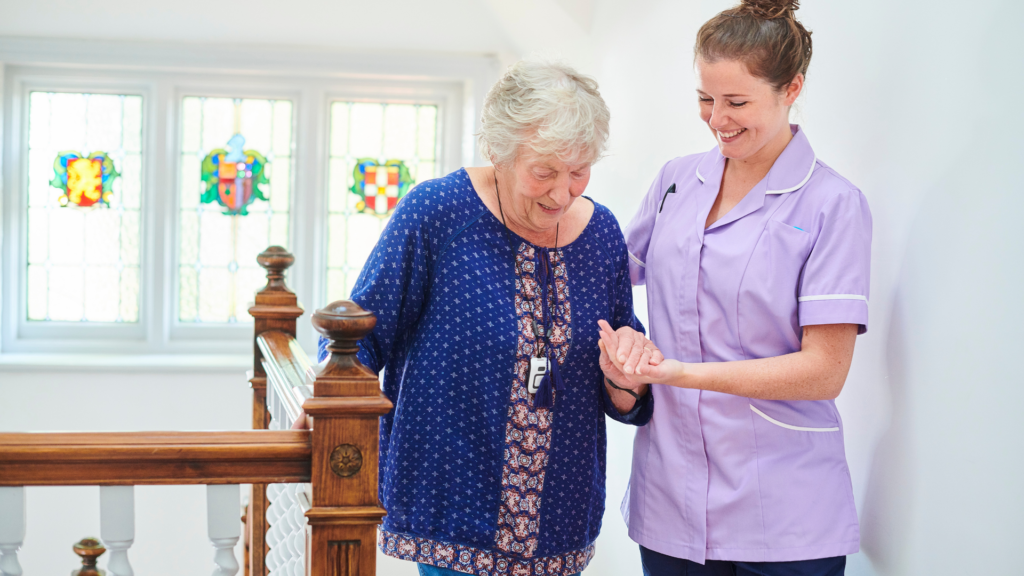 Reasons to Hire a Home Care Service for your Parents
You may be thinking that your parents aren't old enough to need any help, or maybe that they are too old to find them the "right" help. As we age, our needs change and it is important to have a caregiver on hand who can provide the additional care that seniors often need. Caregiving can sometimes be overwhelming for families of senior adults, especially those living with chronic or progressive illnesses such as Alzheimer's disease or Parkinson's disease. Your aging parent may not always know where they want to go but they will know what they don't want! It can become difficult for family members to decide when home care services should come into play – if at all? If you think there might be more than just an occasional need for some extra hands in the house, then it may be time to consider hiring someone to provide home care services.
When families receive home care services from home care agencies, they are relieved of some of the more difficult home duties that home care providers can do. The caregiving journey can be both rewarding and challenging at times, so we want to offer some helpful tips on how to make it a little easier for you.
Here are ten reasons why you should consider hiring a home care service for your parents!
1. Home care is a great way to ensure that your parents are receiving the best possible care
Home care can be intimidating and difficult for those who do not know what they're doing. However, it's quite simple if you have an experienced caregiver in place! Home care is a great way to ensure that your parents are receiving the best possible care. Even if you live out of state, with home health aides and nurses making regular visits, it's easy for them to get whatever help they need so they can continue living independently in their own homes.
Also there's an aging population at risk for chronic disease who will be able to stay independent longer when supported by professional caregivers during recovery from injury or illness . These home care services can be performed by home health aides and nurses.
2. You'll be able to focus on your work or other obligations knowing that they're in good hands
Although you want to be the one providing your parents with home care, it's important for you to focus on other things so that home care providers can get the job done. Whether you are working or simply have other obligations, home care is a great way to ensure that your parents are getting the very best in home care.
When caregivers come in and take on some of the home duties, you'll be able to focus on your work or other obligations knowing that they're in good hands. With an ever growing list of seniors requiring assistance and a shortage of caregivers being experienced by agencies around the country, it can prove difficult finding quality help for your loved ones who need someone with them at all times.  So, home care is a great way to have someone on hand for your loved ones who need assistance with personal home care services. This can also help with family peace of mind.
3. They'll receive personalized attention from someone who knows their needs and wants
Being a senior is an exciting time in life. Seniors are more than just grandparents; they're the older people we know and love who've led amazing lives filled with memories, experiences, and knowledge to share! Many seniors have concerns about their needs as they age such as health care or housing arrangements that can be challenging for them on their own. When you hire services from personal assistants , your loved one will receive personalized attention from someone who knows exactly what he or she wants out of each day helping make those days better by being there alongside our clients during all activities throughout the day including cooking healthy meals, making sure everyone gets enough exercise, preparing medications, grocery shopping, cleaning up the home, and much more.
4. Your parents will have more time for themselves, which means they won't feel like a burden to you
What does it mean to be a burden? It means that someone feels like they're taking up so much space in the world and you are no longer needed. Parents should never feel this way about their children because we need them just as much (if not more!) than they need us. So, if having an at-home care provider frees senior parents from thinking of themselves as burdens, I think that's great!
Homecare services, such as home health aides and home nurses , can help soothe homebound seniors, providing them with assistance for their activities of daily living. For example, home health aides may assist clients in bathing, dressing and grooming to make sure they are up and around.
5. They'll feel less isolated because they're not stuck at home alone all day long
When an elderly family member is living at home, they may feel isolated as their ability to move around decreases. With a caregiver, your loved one is able to spend more time with friends and family, leaving the home less isolated. They can help seniors feel like they're a part of their communities again instead of being stuck at home all day long.
Seniors who want to get out but can't always do so on their own, home care services can help provide the transportation they need. Whether you hire home nursing care , home health aides or a home caregiver to take your loved one to social engagements, medical appointments or errands, seniors will have more opportunities to get out and experience life again!
6. Hiring home care services can help keep them out of hospitals or nursing homes – it's also much less expensive than an assisted living facility!
Many home-bound seniors don't realize that they can receive home care services from home health aides who will go to their home and bring much of the same benefits as a nursing home would.
Hiring in-home health aides or personal caregivers is one way to support aging adults' independence, preventing falls that could lead to a hospital visit, as well as supporting their ability to carry on with daily life tasks without assistance from another person. This will allow them the opportunity for greater socialization which may improve moods and increase overall wellness.
Additionally, home care services cost much less than a nursing home and provide seniors with the independence they deserve!
7. You'll know when you visit that everything is taken care of so you don't need to worry about anything else while you're there  – this will make visits more enjoyable for everyone involved!
When you hire home care services, you can rest knowing that the home your parents are living in is now safe and well taken care of. They'll make sure their home looks lived in while you're away with no worries for either one of you!
Just imagine not having to worry about leaving the home in good shape for when you come home from work!
8. When your parents live at home, they're still close by and can see all the family members as often as they want (if not even more!)
Imagine a situation when parents live in the same home as their children. What type of benefits would it bring for every family member? Our generation is so busy with our work and day-to-day routines that we cannot even find time to meet all other members once or twice on a weekdays! Imagine if your beloved ones are living under one roof, just like you do! Your entire family will be able to spend more time together than before; especially because there won't be any need for commuting anymore – saving lots of money too at last.
Home care services can give them the option to stay at home while receiving the extra support they need. When your parents live at home, they're still close by and can see all their family members as often as possible. You can see your parents whenever you want, even more than when they move into an assisted living facility or a retirement home!
9. It's easier for them to maintain their independence and stay active with daily tasks if they choose not to move into a retirement community or assisted living facility.
Retirement communities can be expensive and they have a lot of rules. Some seniors do not want to move into one because it would take control away from them or restrict their independence, which is why some choose assisted living instead because there's always someone around to do things with them! If your mom has arthritis, she may find it difficult bending over low sinks or high toilets. Oftentimes, home care services are a great way to maintain one's independence and provide them with the help they need without sending them away to another home!
Whether seniors have dementia, disabilities or just want to remain independent at home, home care services can give support in order for your parents to do things on their own whenever possible while offering assistance when needed.
When home health aides are hired, home-bound seniors can receive the home care services they need right in their own home. This is great for seniors who want to stay active and maintain independence because home care allows them to remain independent while still receiving the support they need.
10. The professional caregivers are trained to handle any situation that may arise so you don't have to worry about it!
Wondering what to do if an emergency arises while your loved one is under the care of a home health aide? Professional caregivers are trained in CPR and first aid, so you don't have to worry about it.
The best thing about professional home care services is that they are all trained professionals, the home care aides know what to do if anything happens. They're prepared for it and many home health agencies make sure their home care services staff members go through on-going training to keep up with any new home care developments.
One of the best investments you can make is in your parents' home care. You might be thinking, "I want my parents living with me!" But if you're not able to take care of them because you live too far away or have a full-time job that takes up your time, then this may be the best option for everyone. Plus, it can help keep your family close and provide much needed respite from their day-to-day life. So now we know what's in store for our aging parents when they retire – plenty of homecare services. It's just easier this way!
Do you need professional assistance or guidance? Reach out to us today so we can learn more about how we can help. We'll do everything possible to make sure both sides are happy. Check out our website at www.silvercompanions.com . Reach out to us at (678) 494-8129 or email us at info@SilverCompanions.com; we'd love to hear from you!