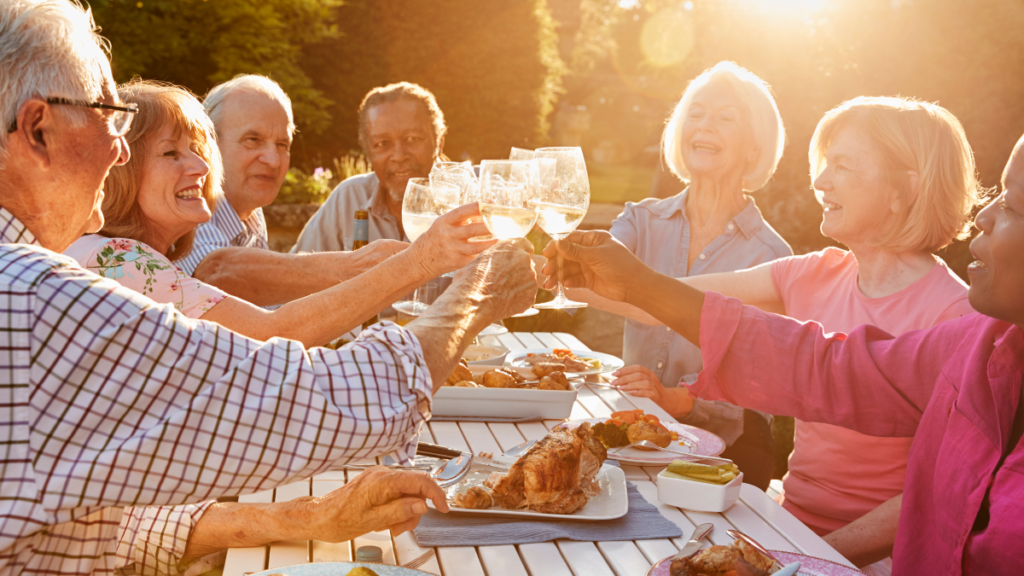 The Importance of Senior Friendships for Healthy Aging
Do you ever miss the days when you could go out with friends and laugh until you cried? For seniors, friendships aren't just a pleasant leisure activity; they're essential for healthy aging. Research shows that maintaining meaningful connections is one of the most crucial elements in creating a successful retirement. By building a network of support, seniors can enjoy greater independence, better physical health, improved mental clarity, and so much more. In this blog post we'll talk about the many benefits that come from having strong senior friendships—and how to make them last in your golden years.
Why Senior Friendships are Essential
Seniors need friendships just like everyone else. A strong social network can combat loneliness, reduce stress levels, and improve overall well-being. Studies have shown that seniors with a wide circle of friends are less likely to develop serious health problems than those who are isolated. In addition, good friendships don't just benefit physical health; they also bolster mental wellbeing, helping seniors feel happier and more secure. 
How to Find New Senior Friendships
Making new connections in your golden years isn't always easy, but it can be done. One of the best ways to meet other seniors is through a local in-home care provider. At these centers, seniors can gather for meals and activities that cater to their needs and interests. Other great resources include senior volunteer programs, religious organizations, and seniors' clubs. 
No matter how you choose to make your connections, take the time to get to know people and share a bit about yourself. Remember, it's perfectly natural to be a little shy at first. But with patience, kindness, and genuine curiosity, you'll find that it isn't long before you're enjoying meaningful conversations and enriching activities with seniors from all walks of life. 
Benefits of Social Activities with Senior Friends 
Having friends isn't just about having someone to chat with; it's also about getting out and sharing experiences. Participating in social activities (either one-on-one or with a larger group) can help seniors stay physically active, mentally sharp, and engaged in the world around them. 
Here are some fun activities to do with Seniors:
Take a class together and learn something new –  anything from painting to cooking

Visit a museum, library, or park and explore the sights 

Catch a movie or concert 

Participate in an organized seniors' outing – like bingo night at the community center 

Join a seniors' sports team

Play board games or cards to pass the time 

Go for walks, take scenic drives, or visit interesting landmarks  

Get together for a special occasion or celebrate milestones 

Make crafts, cook meals, and garden with friends 

Take part in cultural activities like theatre trips, art galleries, museums, and more. 
Ways to Keep Your Conversations with Seniors Engaging and Thought-Provoking
Maintaining meaningful conversations with seniors can sometimes be tricky. To make sure your talks are both engaging and stimulating, consider the following: 
Ask thought provoking questions that invite creative responses –  like "If you could change one thing about the world, what would it be?" 

Take turns discussing topics of mutual interest – whether it's politics or sports, books or music.

Share stories from your own life experiences – seniors love hearing about how things were when you were young.

Ask for seniors' advice – seniors have a wealth of wisdom to share.

Be sure to also listen and be genuinely interested in seniors' stories and views –  seniors appreciate having their opinions heard and valued.

Discuss current events or recent news topics.

Swap tips, recipes, or advice

Talk about something they're passionate about

Share jokes and lighthearted topics to brighten their day. 
Tips for Maintaining Lasting and Meaningful Relationships 
Developing relationships—and keeping them strong—takes some effort.
Here are a few tips to help seniors nurture friendships: 
Regularly stay in touch by calling, texting, or visiting 

Meet for coffee or lunch occasionally 

Make sure each friend gets equal attention when you're together

Accept seniors' invitations to spend time together 

Send cards on special occasions 

Show your appreciation and gratitude for seniors' friendship 

Offer meaningful compliments and encouragement often  

Make plans in advance so seniors know what to expect when they come to visit 

Let seniors know you're available should they ever need help 

Listen without judgment and offer comforting advice when needed 

Celebrate accomplishments and milestones 
The value of having someone to talk to and share your worries with
As seniors age, the ability to maintain and build strong friendships can become increasingly difficult. But as research has proven again and again, having a network of support is essential for seniors in order to stay healthy. Having someone to talk to, share worries with and laugh with can help seniors stay positive, cope better with health problems, feel more connected and engaged, and gain a much-needed boost in confidence.
If you're looking for emotional support, seniors should consider joining a seniors' organization or engaging with an in-home care provider who can provide companionship services. Caregivers are trained to understand the needs of seniors and help them find activities they love, as well as providing emotional and practical support. Furthermore, caregivers can be your best friend too.
When the journey of aging is taken on alone, life can be a love-hate relationship. But those relationships with friends, whether they are peers, mentors or even younger generations, offer emotional support and keep us engaged in life. It's worth making an effort to foster those friendships and draw on the unique knowledge and skills that come with age. Through these connections, we gain insight into our own lives and can make stronger decisions to ensure healthier aging. 
Should you need assistance from an in home service provider to thoroughly enjoy life while aging gracefully, we at Silver Companions are here to make sure you live your later years pain-free and content. Who knows – you might discover some wonderful new friendships along the way too! Don't be afraid to reach out to us at (678) 494-8129 or drop us an email at info@SilverCompanions.com ; in the end, it will add more richness and fulfillment to your life as you turn a page into a new decade of maturity.