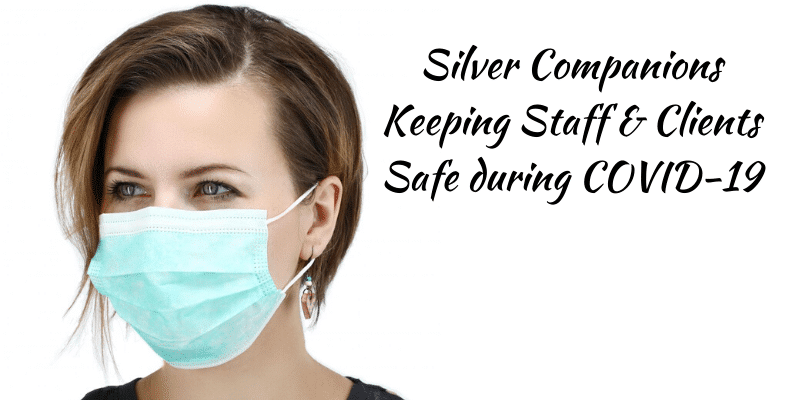 We are rapidly approaching 2 months since COVID-19 was declared a pandemic, and about a month since we have been shelter-in-place. We have all been learning to function in our new "normal", taking extra precautions, in every area of our lives. Shoppers are wearing masks, businesses are limiting access to the curb, and life as we knew it has changed significantly.
That begs the question, how is Silver Companions ensuring the safety of its staff and clients? Our clients still need care. Our staff are still here to serve. So how do we balance that, and minimize the risk?
Here are the 14 ways we are limiting the risk to both our staff and our clients:
Providing adequate PPE (KN-95 masks, Cloth masks, gloves, surgical masks).

Caregivers are always required to wear face masks when coming into contact with patients.

Visiting with clients from at least a 3-6 ft away unless providing direct care.

Minimizing the number of different caregivers assigned to a specific client to minimize potential exposure risk.

Providing Hand Sanitizer, thermometers, soap, disinfecting wipes, disinfecting sprays, gloves, and paper towels for all staff and clients upon request.

Daily screenings of staff and clients to assure no one is exhibiting symptoms.

Adequate support with filing unemployment benefits for caregivers that need it. 

Providing telework opportunities for key management to allow social distancing.

Providing constant education with the ever-changing topic of COVID-19.

To ensure continued employment opportunities, we are conducting virtual interviews with prospective applicants.

Rewriting current policies and procedures to ensure that all employees have a complete understanding of the steps to take in various situations related to COVID-19.

To minimize exposure, we are only providing one on one care in homes and communities that are COVID- 19 free.

Currently, have NO Clients or Staff with COVID-19.  Any involved client or caregiver will be notified if they come into contact with COVID-19.

Have encouraged voluntary 14-day home quarantine for any staff exhibiting any COVID-19 symptoms, as well as daily check ins for 14 days with the Clinical Manager if symptoms are reported.  
We are taking this pandemic extremely seriously. We also take the health of our clients and our staff extremely seriously. We are committed to the health and well-being of our clients, and want to be sure our client's needs are taken care of. We will never put them at risk, and we also won't put the safety of our staff at risk. That is why we are taking the precautions above to reduce the risk of spreading any illness.
We currently, have NO Clients or Staff with COVID-19. 
Any involved client or caregiver will be notified if they encounter COVID-19.
If you are still sheltered in place, and have a loved one you are concerned about, we may be able to help. Please give us a call, so we can discuss your situation. There is no cost and no obligation. We care, and we make every effort to ease your mind. Call us at (678) 494-8129 or Contact Us here.