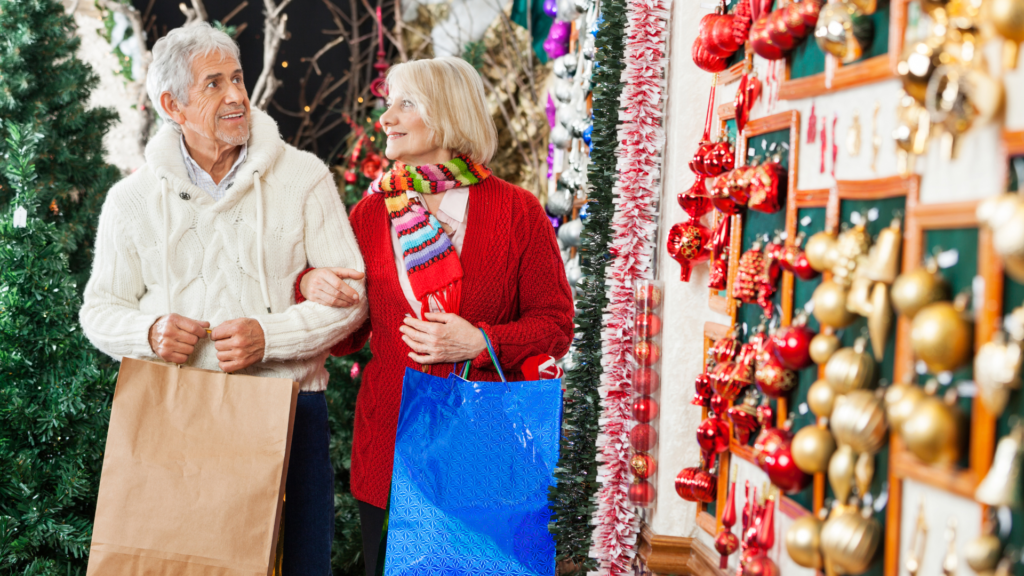 Tis the Season – 6 Easy Tips for Seniors to Get the Most out of Holiday Shopping
It's the most wonderful time of the year – and for many people, that means Christmas shopping!
The holiday season is a time for cheer and giving, but it can also be a time of stress for those who have to do all the shopping. If you're a senior citizen, though, don't worry – we've got some great tips to help make your holiday shopping experience as enjoyable as possible! Keep reading for our top tips on how to get through holiday shopping without any drama.
Make a list – and check it twice!
As anyone who's ever gone Christmas shopping knows, it's important to have a plan before you even set foot in a store. Otherwise, you'll end up wandering aimlessly around the mall, trying to think of what to buy for everyone on your list.
To avoid this, sit down a few days before you start shopping and make a list of everyone you need to buy gifts for. When preparing the list, you should also consider having a guide to help choose age appropriate toys, especially if you're buying for your grandchildren. Once you have your list, you can start brainstorming gift ideas that are tailored to each person's interests and personality – it'll make the actual shopping process much easier and less stressful.
Set a budget and try to stick to it
Another important step to take before you start shopping is to set a budget for how much you're willing to spend. This will help you avoid overspending – which is all too easy to do during the holidays – and will make it easier to stick to your list.
Once you've set your budget, try to stick to it as closely as possible when you're out shopping. If you find yourself getting tempted to spend more than you planned, remind yourself of your budget and try to find a cheaper alternative that still fits the person's interests.
Look for gift cards or certificates that can be used at multiple stores
If you're struggling to find the perfect gift for someone, a gift card or certificate can be a great option. That way, the person can choose their own present and you don't have to worry about getting them something they don't want or need.
There are many places where you can purchase gift cards, such as grocery stores, department stores, and even online. And to make things even easier, many companies now offer digital gift cards that can be sent directly to the recipient's email inbox.
Shop online
If braving the crowds at the mall sounds like too much of a hassle, don't worry – you can do all your Christmas shopping from the comfort of your own home by shopping online. Not only is it more convenient, but you'll also have a much wider selection of gifts to choose from.
To make sure you're getting the best deals, take some time to compare prices on different websites before you make your final purchase. And if you're worried about gifts getting delivered on time, you can always opt for overnight shipping – just make sure to factor that into your budget.
Black Friday and other holiday sales
Many retailers offer incredible savings during Black Friday weekend, which includes Black Friday, Small Business Saturday, and Cyber Monday. Not only do they offer reduced prices, but they also offer package and bundle deals that incorporate several different complementary products. 
While it can sometimes be overwhelming, if you have your list handy as you comb through the various retailer's ads or websites, you can watch for those products, or similar items, that match what's on your list. In some cases, retailers offer specific products that are manufactured specifically for Black Friday and are not available at other times of the year. For example, Walmart often has one or two television models that are a known brand, but the model is specifically made for Black Friday pricing.
Take advantage of senior discounts
Many stores offer special discounts for seniors, so be sure to take advantage of them! This can help you save a lot of money on your Christmas shopping, and it's a great way to support local businesses.
To find out which stores offer seniors discounts, just do a quick search online or ask a sales associate when you're out shopping. And always remember to bring your ID with you to take advantage of the discounts.
Have your in-home caregiver assist you with your shopping
One of the best ways to make sure you have a stress-free and enjoyable Christmas shopping experience is to have someone you trust help you with the process. This can be a family member, friend, or even your in-home caregiver. They can help you with everything from making a list to carrying your bags – and they'll be there to lend a listening ear if you need to vent about the crowds or the cost of gifts.
So this holiday season, don't go it alone – ask for help from those who care about you and want to make sure you have a great Christmas. You'll be glad you did!
Merry Christmas, folks! We hope you have a wonderful time shopping for your loved ones (or yourself!) this year. If you need any help or advice along the way, let us know – we're always here to help. You can call us at (678) 494-8129. You can also email us at info@SilverCompanions.com. We're here to support you every step of the way. From all of us at Silver Companions, have a very Happy and Healthy Holiday season!